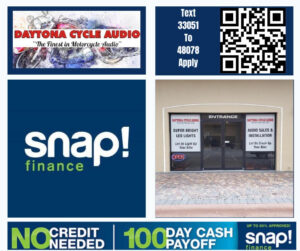 Looking to upgrade your sound system?
Snap makes it super easy to do with no credit needed & flexible payment options, Fast & Easy! 
3 Different ways to get started:
1. Simply text 33051 to 48078 and they will text you the application.
2. Click on this link which will take you to the application
3. Or if you'd rather speak to a representative, call their hotline at 877-273-2066.
Then call us to make your bike sound amazing! 386-256-2816